As part of Film Feels Curious, we sent BFI FAN Young Consultant Colette Webber to visit Portsmouth's new independent cinema, Southsea Cinema Arts Centre. Here, Colette tells us about their Film Feels Curious screening of Wake in Fright (1971) and her conversations with the cinema team from Portsmouth Film Society on what the new venue means for cinema in the community.
As Wake in Fright, the deeply disturbing, occasionally delightful, and now cult status film flickers to life against the collapsible screen in the new Southsea Community Cinema, diehard fan and filmmaker Billy begins to introduce Ted Kotcheff's 1971 film – a film forgotten for almost 40 years after its release – for what it means to him.


Kotcheff's film set in the oblivion of the Australian outback is an almost-horror built around a man's – and perhaps a nation's – crisis of identity as he is torn between city and country, intellect and instinct and seemingly opposing sexual urges. Constituted of sweating bodies, persistent violence and litres and litres of beer, Wake in Fright gets under your skin, but it is a slow, creeping process. Watching it for the first time on a big screen, and in particular watching the deliberately drawn out, totally uncensored scenes of brutality filmed on a real-life Kangaroo hunt, reminds me why this film has proven so difficult to programme. At the same time, the unflinching takedown of violent masculinity reminds me why it remains so potent more than 50 years on.
Although the Portsmouth Film Society has existed for over ten years, until they established Southsea Community Cinema and Arts Centre in a previously derelict high street bank in May this year, locals would have to make almost an hour's journey to Portsmouth's multiplex or to the only other independent cinema in the area, which is currently shut for Summer. Even if you were to walk this distance, access remained a problem, in the broadest sense.
There was nowhere to easily get your eyes on a forgotten Aussie gem, a body horror classic, or an iconic black and white French indie. Here, as part of their Film Feels Curious programme Southsea Cinema have catered to the curiosity of local film lovers, putting on David Cronenberg's Videodrome, Mathieu Kassovitz's La Haine, Mike Leigh's black comedy of a re-imagined London Naked, and even going back to the days of pre-code Hollywood with Tod Browning's 1932 film Freaks. The scope is intentionally broad, covering four continents and five different decades, yet a clear thread runs through the selection. Each of these comparatively low budget films have, through some mixture of controversy, distribution scandal or, as with La Haine, the sadly ongoing relevance a generation on, garnered a dedicated cult following.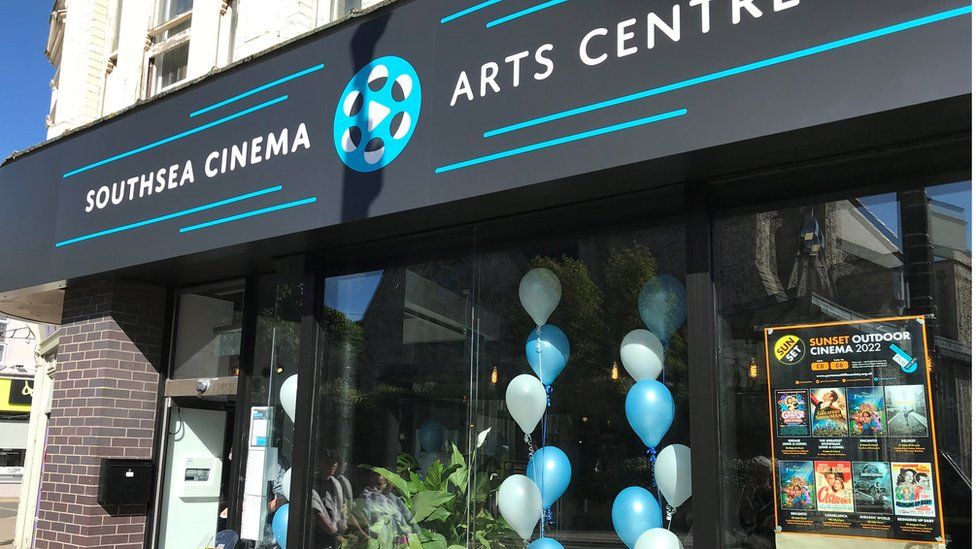 When I spoke with Billy in the cinema Café just before the screening, I asked him why he felt that the Aussie New Wave oddity Wake in Fright made the cut for the Southsea Film Feels Curious programme. Billy explained that he wanted to give audiences a chance to explore the question of whether a complete and utter box office flop had the potential to still resonate now, and if so, how? And why did it flop in the first place?
Indeed, despite a successful nine month run in Paris (in Kotcheff's words 'The French love showing men under existential stress') Wake in Fright was dismissed on release by American distributors, who turned their noses up at its unapologetic nastiness, insisting that US audiences wouldn't 'come out to see this film. It's far too tough'. Southsea audiences certainly showed up though. The packed-out seating area (including makeshift seats of cushions and beanbags) and the animated conversations that followed the screening, as well as some pleasantly shellshocked expressions, are testament to Portsmouth Film Society Director Ayesegul's assertion that she felt an appetite for the alternative growing quietly in the seaside town over the years. This made her further determined to crowdfund and fight for centralised funding to create a dedicated space to fulfil this demand.
Indeed, this desire for unashamedly alternative programming is borne out by the response to their recent screening of Derek Jarman's direct provocation to the monarchy, his playfully anarchic punk sci-fi film Jubilee, programmed over the Jubilee Bank Holiday weekend, of course. 'How did that go down?' I asked, recalling how, within the first twenty minutes of Jarman's outlandish dystopian epic, our current Monarch has been mugged somewhere in Deptford and left on the roadside. In fact, the Southsea Cinema team were contacted afterwards with people thanking them for putting on this film in amongst the mainstream festivities and streets all Union Jacked up to the nines. One audience member said this had become their official Jubilee programming for the weekend.

I stuck around after the credits rolled for Wake in Fright to find out what the Southsea audience had made of this equally strange film. One audience member described the experience as 'descending through many different layers of hell'. This reflection, in turn, reminded another viewer of Dante's Inferno, likening the character of Doc (Donald Pleasance) to a warped version of Virgil, as he a guides – or misguides – John (Gary Bond) through the dusty hellscape. As this year's Film Feels brief called for independent venues and cinemas to curate screenings that would inspire curiosity in audiences, this clearly did just that.
Providing routes into film and showcasing films that otherwise might remain hidden is central to the mission of Southsea Community Cinema. This comes through clearly in each decision right from the Cinema's inception, from prioritising wheelchair accessibility and signed screenings to Aysegul's emphasis on dementia friendly screenings, parent and baby matinees, and their dedicated educational space upstairs which facilitates filmmaking classes, digital photography workshops and even DJ taster sessions. Curatorial and programming decisions are also placed firmly in the hands of local people, having dedicated fans like Billy introduce and frame the Film Feels Curious selection reinforces what is already clear: stepping inside the building, this is cinema by the community, for the community.


At the end of the evening, Billy tells us that he also spent time in the Australian Outback, not unlike Kotcheff's protagonist. Long before his involvement with the film society, he recalls sitting on a Greyhound bus in the unrelenting heat, trundling through the desert, and a film being shown about the horrors of the British treatment of Indigenous people – something that is fleetingly hinted at throughout Wake in Fright too. It is a fascinatingly incongruous example of programming, and Billy didn't forget it. There is no right route into film then, and the routes we find are often curious, in the peculiar sense.
Now, film means something different to Billy as it has since played a crucial role in his recovery from alcoholism. He jokes that perhaps this is why the themes of Wake in Fright resonate with him, considering that he too found himself trapped in a working-class outback town by regularly burning through his entire paycheque on beer. Now Billy works with people not just from Southsea, but from across the UK, to make their own films exploring their respective recoveries from addiction, alcoholism or abuse, and a Recovery Festival is planned for November where eight of the films will be shown.
Curiosity is essential then. To feel curious though, we require time, energy and space. Sometimes, this urge to explore the unknown might escape us for long stretches of time, perhaps years, as we take comfort in the familiar. In those moments, a personalised introduction to the strange and unexpected can be just the nudge we need. Beyond projecting curious and forgotten films onto the big screen, this is what the Southsea Community Cinema is providing with their Film Feels season – a personal invitation to curiosity.
Southsea Cinema's Film Feels Curious programme took place in June 2022.