We asked three of the young programmers from Ffilm Ifanc to tell us about their experience of curating, marketing, and producing their Film Feels Curious event, A Curious Trip in Cinema.

Sam Vaughan: Programming
Curating for 'A Curious Trip in Cinema' has been such a brilliant opportunity for Ffilm Ifanc to really dive into the world of film curation through this wonderful and wacky experience. We were thrilled to be able to apply for such a unique project where we could start to bring back larger audiences to live screening events. We loved the Film Feels theme for this season of 'Curious' and couldn't wait to start brainstorming as to the kind of films we could screen and how we could make our event really stand out from the crowd to secure funding. We put a bid forward for the Film Feels funding with support from Megan Mitchell, from Matchbox Cineclub, and we couldn't be more grateful for the support and guidance that she has continuously given us. We decided on the theme of psychedelic cinema to make our event distinctive, but we wanted this to be a cinema experience with a twist.
Curating this event wasn't just about screening films, it was about creating a space where young people could start networking and sharing ideas again. Ffilm Ifanc is all about unlocking the potential of young people in the film industry, whether it be as filmmakers, programmers, or events planners. We want to extend this ethos to the people that attend A Curious Trip. The process of selecting films was like trying to find a needle in a haystack, with so many amazing psychedelic films out there to choose from. How could we find the perfect four? We began looking through lists of the best psychedelic movies and watching the ones that screamed psychedelia. Eventually, we agreed that we would use a common theme, whether it was the films' genre or even subject matter, and group them together to give each day a distinctive theme. We wanted the films to be contrasting as the audience would have to pick which film to watch to give our audiences that idea of a different trip so their attitudes and content would be very opposing.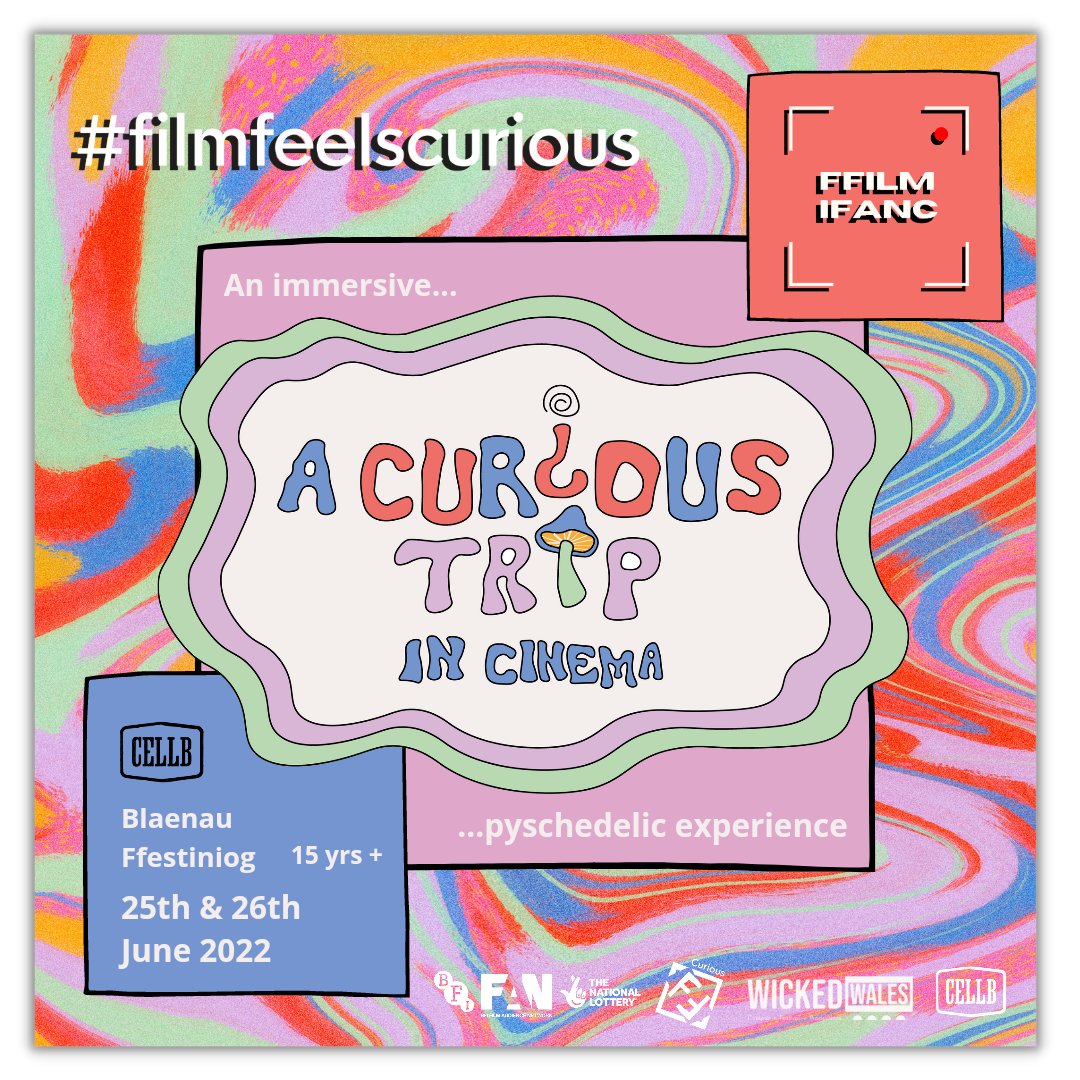 One of the biggest learning curves of my experience in programming is that there is only so much you can plan before you may have to think on your feet. Your programming plans can be turned upside down as the final decision is ultimately up to the distributors. For example, we were unable to secure the rights to most of our original picks. Thanks to the support of Matchbox Cineclub and Park Circus we were able to curate a new programme that we felt was still exciting and contrasting enough to capture what we wanted from this event. Programming this event has been an amazing opportunity and has opened my eyes to the world of film curation. Personally I would love to go on to continue programming events like this; creating unique cinema experiences. Next, I would love to dive into horror, focusing on creating the right atmosphere and heightening the already terrifying atmosphere a horror film creates. I've really enjoyed working on this project and hope that everyone who comes to A Curious Trip in Cinema enjoys this amazing experience we've put together.

Phoebe Lacey-Freeman: Marketing
We wanted to create a bold and cohesive brand to excite our audience and make them want to come to our psychedelic experience. My colleague Bethan, who has developed amazing graphic designs for Ffilm Ifanc, worked hard to create a logo and the marketing designs that encapsulate the world of psychedelia cinema. Our marketing idea was simple: maintain our audience's curiosity. We wanted to push the theme of curiosity to every limit in our event. How could we keep our audiences intrigued and curious in the lead up to our event? The answer was to have secret films screening - using clues to promote our events. We wanted to see if an audience would be drawn to our event based on our theme of psychedelia and the mystery surrounding our screenings - a step into the unknown. We could have kept the location and dates a secret but setting A Curious Trip in Blaenau Ffestiniog only fed into the event's uniqueness. The incredible landscape surrounding our venue, CellB, needed to be infused as part of the experience.
Our event has been planned much like a blind date. We released some details of our films' personalities - some photo snippets, some quotes, and some facts. It is now up to our audience to decide whether they feel drawn to see any of our mystery films. We want to provide the thrill of the unknown and test people's inquisitiveness. The audience needs to immerse themselves in their own curiosity for our event to be fully realised. If anyone guesses our movies, that will only build excitement, and if no one does, then we have the perfect evening for indecisive cinephiles who want to see a film. The secrecy we have created is exhilarating and we are having a lot of fun checking our socials to see what new guesses people have made. We have been releasing a few of these clues each week, alongside behind-the-scenes shots of us working on our plans. As we are not releasing the details of our films, we wanted to be as transparent as possible with our process.
It has been so exciting planning every detail of this event. I have loved watching new films, listening to new music and sourcing props that I've never used before. We didn't see the point in spamming people with the same content all the time, because, as young people, we wouldn't respond to that. We wanted to make sure we appealed to young cinemagoers. I have loved marketing and spreading the word about this crazy and unique event and have had great fun designing A Curious Trip in Cinema, whilst utilising the talents of our members as much as possible. We believe young people have so much creative potential and we will continue to use the talents within Ffilm Ifanc in our future projects.

Osian Andrews: Audiences
Ffilm Ifanc's ethos is to provide accessible and relevant showcases and opportunities aimed at young people all over Wales. From southern cities to rural northern communities, exciting and different film-related events are a must in an ever-changing Welsh film landscape. In a post-pandemic world where small arts venues have had a tough time, it's important for us to emphasise the importance of curating events that encourage footfall to rural-based theatres and arts centres. Through our research, we found that young people were keen to see films that weren't modern day blockbusters, something we've tried to incorporate in our film choices. We're hoping our film choices at our event will reflect a wider range of viewing experience for our curious audience.
Our aim with our Film Feels Curious project 'a Curious Trip in Cinema' was to bring an innovative viewing experience to the heart of a historic town in Wales - Blaenau Ffestiniog. A fun screening and networking event aimed to get young people conversing, our event will encourage audiences back to Cell B, a unique arts venue at the heart of the UNESCO World Heritage Site. Having completed a Wales-wide small venue tour in earlier 2022, Ffilm Ifanc has gained support, acknowledgement and a following from people interested in non-mainstream screenings. We're hoping to carry over our experiences and extend our abilities with our Film Feels Curious event.


I grew up (and still live) in a rural community in South Wales where our nearest big chain cinema is several miles down the motorway where tickets were once in excess of £10. Prices increased by a pound or so annually, until a successful petition was launched by a local mother who'd had enough of forking out two days' worth of wages for a family day out. Since then, the cinema's costs have been halved and more people - especially young people and families - frequent the venue. I mention my local cinema simply because it's one of many tales of big chain cinemas profiting excessively from the pockets of small-town communities who have no choice but to visit their establishment due to its remote location. With an event at Cell B, we have an opportunity to allow audiences to access a cinema experience they otherwise wouldn't in such a remote location. We also have the opportunity to make it financially viable, using a 'pay-what-you-feel' approach, something we at Ffilm Ifanc are yet to try, but are keen and excited to do so.
The pandemic has taken its toll on young people's mental health and well-being, especially those in already isolated areas. A social event aimed at encouraging young people to partake in a unique screening tie into Ffilm Ifans's main goal. Film Feels Curious has given us the opportunity to continue our journey into making alternative film experiences for young audiences in Wales. I'm excited to bring my community an immersive experience, that I would've longed for a few years ago.
Join Ffilm Ifanc on Saturday 25 June and Sunday 26 June for A Curious Trip in Cinema.
The Ffilm Ifanc young film programmers project has been developed with the support of Wicked Wales Films.