Ahead of their Film Feels Curious weekender, Charlotte Ashcroft (London Short Film Festival) and Sarah Cleaver (Zodiac Film Club) sat down to discuss their approach to EYE RITUALS, a series of phantasmagorical films venturing into the furthest reaches of dreams, mystic visions and surreal landscapes, screening at the ICA on 30 and 31 July.
S: When you came to me with this programme it seemed very fully formed in your head. What was the first spark of inspiration for the idea of a 'phantasmagoric' theme and how did it develop?
C: The initial spark came from the BFI Film Feels Curious prompt, and very luckily having the freedom to explore the idea and apply for funding via LSFF. I have a collage of inspirations for this project, probably reaching back decades to watching the Singing Ringing Tree on a fuzzy VHS and a series of strange holographic Fairytale books (the internet tells me they were produced by a Japanese puppet company) that my grandma had on a bookshelf. There was something so tactile, sinister and seductive about the book covers and the gilded, iridescent set design of the film and it's an aesthetic that still draws me in. The films in this programme all embody the definition of 'phantasmagorical' as 'an exhibition of optical effects and illusions/a constantly shifting complex succession of things seen or imagined/a bizarre or fantastic combination, collection, or assemblage'; they conjure ghosts, and seem to contain within them something unknowable. The materiality of glitter, glass, iridescent things and optical effects that evoke this feeling was also something I wanted to explore - the physical, structural process of the image-making.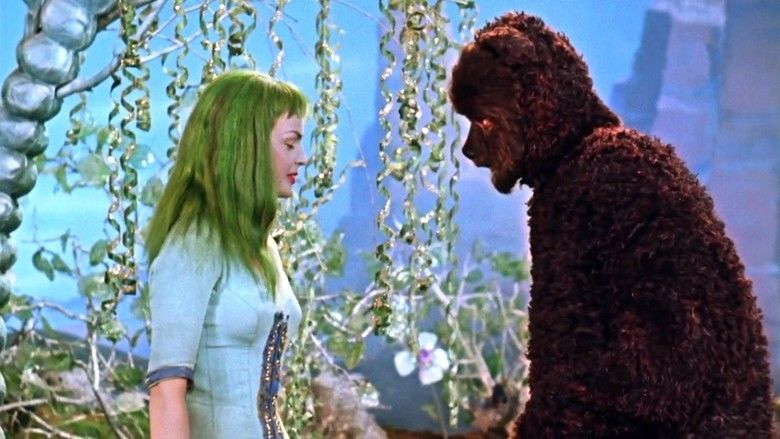 I'm also fascinated by dream imagery and representations of the subconscious on film, and by the gothic and abject in literature, particularly Angela Carter. We're all seduced and horrified by fairy tales and myths from that nascent stage, but I was keen for this not to be a typical 'dark fairytale' programme nor an Alice in Wonderland homage, rather films that danced around loose themes but share this mysterious, oneiric visual style. This reminds me of a part in a Nick Cave doc where he talks about when he met his wife Susie, and all of the aesthetic touchstones and historical moments that have swum about in his consciousness for years collide and combust in this singular, crystallised moment.
I'd seen most of these films over the years at different film festivals or online, or from seeing a stray still somewhere, and the Curious prompt made me wonder if they would all work together in a programme. Celine & Julie is also just a really wonderful, playful, deeply strange and uncanny film that touches on all of the above - pairing the shorts with a classic, (very) long feature felt like a good double bill. I was also interested in finding films that represent political ideas both in the content and the modes of production and distribution; the colonial commodification of 'The East' in Mount Song, the queer subtext and suburban cannibalism of Possibly in Michigan. It was also an interesting process acquiring the films; we had a lovely email correspondence with Mari Terashima and Celine and Julie is playing from a 35mm print that recently screened at the Metrograph in New York.


C: Writing on Instagram about another programme you referenced the 'autrice' and 'highly decorative, hyper-feminised mise en scène', which definitely applies to some of the films in Eye Rituals; there's so much bijoux, glittering imagery in the programme.
S: Yes! Zodiac has always screened underseen and under-estimated films and a lot of those are films that have a very pretty, feminine aesthetic. It wasn't until I programmed some short films for the recent Girls in Film Festival that I interrogated these choices. I've been dipping in and out of Rosalind Galt's very influential book Pretty: Film and the Decorative Image, in which she talks about a tendency among critics to mistrust and denigrate decorative and ornamental films. There's so much to talk about when it comes to decorative cinema, but personally I'm drawn to its accessibility. I think that art should make you want to make your own, and there's something about the pretty that is almost handmade and almost cheap or affordable. I know Dolly Parton said 'it costs a lot of money to look this cheap', but I bet it would have cost her a lot more to embody a clean, minimal aesthetic. The decorative can hold imperfection and darkness and still be mesmerising, which at the end of the day is what cinema should be. Prettiness to me implies the touch of the artist's hand, and I think that's something you can see in a lot of the films we've selected for the Eye Rituals short film programme – from the hand-drawn animation of The Black Dog to the small world created in Something Between Us.

S: What are your thoughts on the specific nature of screening short films? How do they differ from features and what do you hope an audience will take from a short film programme?
C: Although short films do function as a showcase for a filmmaker, with a view to eventually make feature or commercial work, they're hugely valuable works of art in their own right. Queer and racial histories and politics, films made outside of the studio system on little to no budget unbeholden to a structure or story; shorts are inherently the most radical form of filmmaking. Shorts lend themselves perfectly to a singular image or idea, or just something incredibly strange, and there's such a vast history of short film and artists' moving image in the archives; video art, music videos, political films, newsreels, TikToks (Possibly in Michigan has had its own TikTok revival). Festivals and programmers curate incredible thematic repertory shorts programmes and it's where I've learned so much about different filmmaking movements and filmmakers, or just experienced a crazy mélange of images. The beauty of a shorts programme is that you can see an old commercial, a YouTube video, a music video, and a narrative short together, loosely or tightly related to one another, or a retrospective of one filmmaker. We're all consuming dozens of shorts every day via our phones, the format lends itself to our fractured attention spans.
Despite this, short film programmes are often much harder to sell to an audience outside of a festival context; luckily LSFF has a 20-year reputation for curating really interesting and radical programmes, and I'm very grateful to the ICA for partnering with us on the screenings. That we can offer some 'added extras' to the screenings in the form of an introduction by Dr Felicity Gee and a lucid dreaming workshop with Tree Carr also substantiates and expands the themes of the programme.



C: Zodiac Film Club's aesthetic and remit are seemingly drawn from the stranger and more curious corners of cinema. How did Zodiac come into being?
S: It was just after I did a masters in film studies, I was back in London and spending a lot of time with my friend Jordan. We had a totally unrealistic idea of opening a cinema in central London that only played horror called The Zodiac, which we would also live above if I remember correctly. Jordan took the dream to a more manageable level and suggested we start a film club. We opened out our offering to include 'pulp, thrills and mystery' and started screening The Beguiled (1971) to about 9 people in the basement of a dingy club in Dalston. So even though it's not in the least a horror film club it did come from that strange place of finding enjoyment and solace in horror, which we both were at the time. The name Zodiac was just a cool name, but it's allowed us to explore our interest in mythology, magic and mysticism. Now Jordan is in Frome studying plant magic, and I'm still working with magic on the screen through Zodiac.
S: We have some dark themes hinted at in our Eye Rituals programme. I remember you saying to me that the darker and more peculiar elements of avant garde cinema interested you. Tell me a little more about your interest in darkness expressed through the decorative and pretty.
C: I think I'll talk specifically about those themes within the programme to make this answer shorter(!) as that interplay between the beautiful and dangerous is so prevalent in each film, whether implied or explicit. There's also a sense that these self-contained fantasies and worlds offer a sanctuary from reality, a form of retribution that only exists in imagination. Cecelia Condit's video works from the 80s deal specifically with themes of murder and violation based on events in Condit's own life, and Possibly in Michigan's gory ending (much like the maternal heroine in Angela Carter's The Bloody Chamber) offers a gleeful reversal of victimhood, even as the (re)cycle of violence continues. In Celine and Julie the agency to prevent or reverse an act of violence is also put into the hands of two women who create a quasi-domestic set-up while impotent male characters are emasculated and ridiculed.



I was really glad to be able to include Mount Song in the programme, courtesy of the director - the film is made up entirely of eerie, enchanting landscape shots from Hong Kong and wuxia films from the 1970s and 80s. Each shot is heavy with a sense of imminent violence, a palpable suspense or the remnants of an action. In an interview with Frieze Shambhavi Kaul states ''I imagine the surfaces of these very virtual sets and their kitschy artifices as being offered up to people for the sake of an attachment, and attachments that take place within cinematic space are not defined by borders but by distribution networks.' The film challenges the collective notion of this imagined mythical 'East' as packaged and sold to a Western audience via the Hollywood studio system, and in doing so erases colonial history and violence in favour of a palatable exotic fantasy.

The 'darkest' film in the programme is probably Bertrand Mandico's Y a-t-il une vierge encore vivante? (Any Virgin Left Alive?) which could be classed as a psycho-sexual horror film, a religious allegory, a grotesque but seductive retelling of the fate of Joan of Arc, positing that instead of dying at the stake she was set wandering, blinded and violated, into the wilds. Joan can only seek to reclaim her stolen purity and piety by consuming the bodies of the virgins she comes across, traversing a cursed landscape where trees and beasts sexually dominate and subsume human entrails. The effect of the film is completely spellbinding, like a bad trip, but definitely warrants the content warning.
C: Like you, I'm drawn to this kind of imagery and the experience of simply visually absorbing it, almost without regard to the action or story within the film. I think more film screenings should be programmed on vibes alone. What are Zodiac's future plans for screenings, and where does your curiosity lead next?
S: I think vibes are such an interesting thing to speak about at the moment. I saw an article in the FT about how political stances are essentially just vibes that we back up with reason and arguments. We know we hate Rishi more than Liz or vice versa, but we don't quite know why until we come up with reasons to support our gut feelings. But vibes are more than just visual. Because Zodiac grew on Instagram, it started to form an inseparable connection not just to aesthetics but to shared cultural knowledge, the way the ideas and consensus of an audience can change what a film is. Last night I sat my boyfriend down to watch Showgirls, thinking that it would be a fun night. But he was very traumatised. And I realised the power that an audience can have in shaping what a film is. I watch Showgirls knowing that in popular culture it's a funny, excessive, cult film that's become very important to certain communities who wear their enjoyment of it as a kind of badge of honour.
He watched it without any of those 'vibes', and saw a profoundly cynical film without hope. So I guess that's my failing as the programmer of the evening. But I don't think that film would have had the same longevity if it was ugly or gritty. I think visually pleasing films give people who maybe wouldn't normally analyse cinema permission to deconstruct and make it their own. This generation has an obsession with cataloguing vibes: coquette, cottage core, indie sleaze, goblin mode etc, and they've discovered film very differently to previous generations. I'm old enough to have discovered a lot of films on afternoon or late night television, but people younger than me became aware of the same films by seeing stills on Tumblr and Instagram, so I think that explains the rise of vibe cinema. It's natural selection of the vibiest. So when we programme films for Zodiac we use vibes as a shorthand to communicate what there is to take from a film, but once you get people into the cinema, the film expands based on who the audience are.
I could go on about cinematic vibes for ages but I realised I haven't answered the question. I have a million ideas that I want to explore, but currently we're working on a plan for returning to pre-Covid Zodiac glory with a very folk-horror, pagan style Halloween screening, and then hopefully making up for our cancelled Christmas last year with a folk and fairytale programme.
C: For anyone who'd like to carry on the vibes post-screening, I made a Spotify playlist made up of witchy folk songs, ambient and electronic music. You can listen to it here:
Find out more about EYE RITUALS here.
Image Credits

1. The Singing Ringing Tree (Francesco Stefani, 1957)
2. Celine and Julie Go Boating (Jacques Rivette, 1974)
3. Hatsukoi (Mari Terashima, 1984)
4. Possibly in Michigan (Cecelia Condit, 1983)